What to consider when choosing your bathroom
tiles

and

flooring
Here are some considerations when choosing your tiles and flooring for your bathroom renovation. This will help you choose the right materials for your project, so let's get started.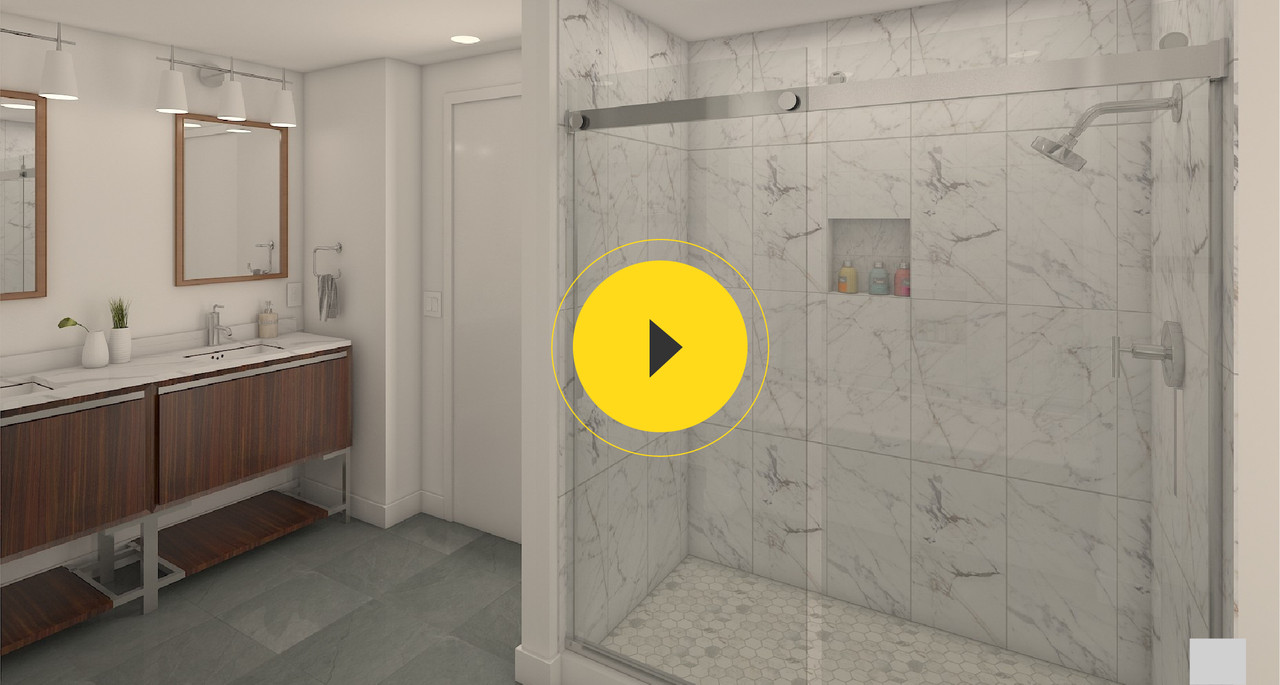 When choosing your bathroom tiles, it is important to consider the functionality and application of the tile, in addition to the aesthetic. Let's first discover functionally, what should be considered.
When choosing your shower floor tiles
We'll start with your shower floor tile.
When choosing a shower floor tile, ensure a high slip resistance is factored into your decision. Smaller tiles are great for the shower floor application. This is because they have increased grout lines for traction to help with slip resistance. To add, smaller tiles conform to the slope of the shower floor. Mosaic tiles are a popular choice for shower floor tiles for this reason.
If you are considering larger format shower floor tiles, here are some items to think about.
First, how to properly create the required slope to the drain. For larger format tiles, we recommend linear drains. Not only do linear drains provide a high-end design aesthetic, but they also serve an important functional purpose in that the shower based can be sloped on a single plane.
Another consideration for large format shower floor tiles, is to ensure the tile has a great slip-resistance rating. We recommend a coefficient of friction of 0.6 or above.
When choosing your shower wall tiles
Now, let's look at your shower wall tiles.
If you'd like a low maintenance, easy to clean shower, we recommend choosing a larger format shower wall tile. This offers less grout lines and will be easier to clean than a small format tile for the shower wall. Since slip resistance isn't a major focus on the shower wall surface, you have more flexibility in your choice.
Depending on your style preference, you can go with a range of tile sizes from a 3×6" subway tile, to a 12×24" porcelain tile! If you are considering a large format shower wall tile which is greater than 24", there will be higher installation costs due to the exacting formatting and installation of the tile. However, large format shower wall tiles provide a modern, clean and high-end aesthetic.
Similar to the shower floor tile, it is important to keep slip resistance in mind when it comes to your bathroom floor materials.
What to consider for your bathroom floors
For your bathroom floor, we recommend going with a tile material – either porcelain, ceramic or natural stone.
Tile is easy to clean, durable and water resistant. If you would like to have a hardwood look for your bathroom floor, there are tiles which mimic hardwood. One example is porcelain tile planks.
We do not recommend hardwood or engineered hardwood in the bathroom as these types of materials are malleable in moisture-prone and humid areas. It is fine to use hardwood flooring in a powder room where there is no bathtub, shower, and little moisture.
Another option is luxury vinyl. Luxury vinyl tiles come in a variety of styles – from wood to natural-stone looks. Some luxury vinyl tiles are both water resistant and waterproof, making it a great choice for the bathroom.