What to consider when choosing a kitchen
backsplash

and

flooring
Here are some considerations when choosing your backsplash and flooring for your kitchen renovation. This will help you choose the right materials for your project, so let's get started.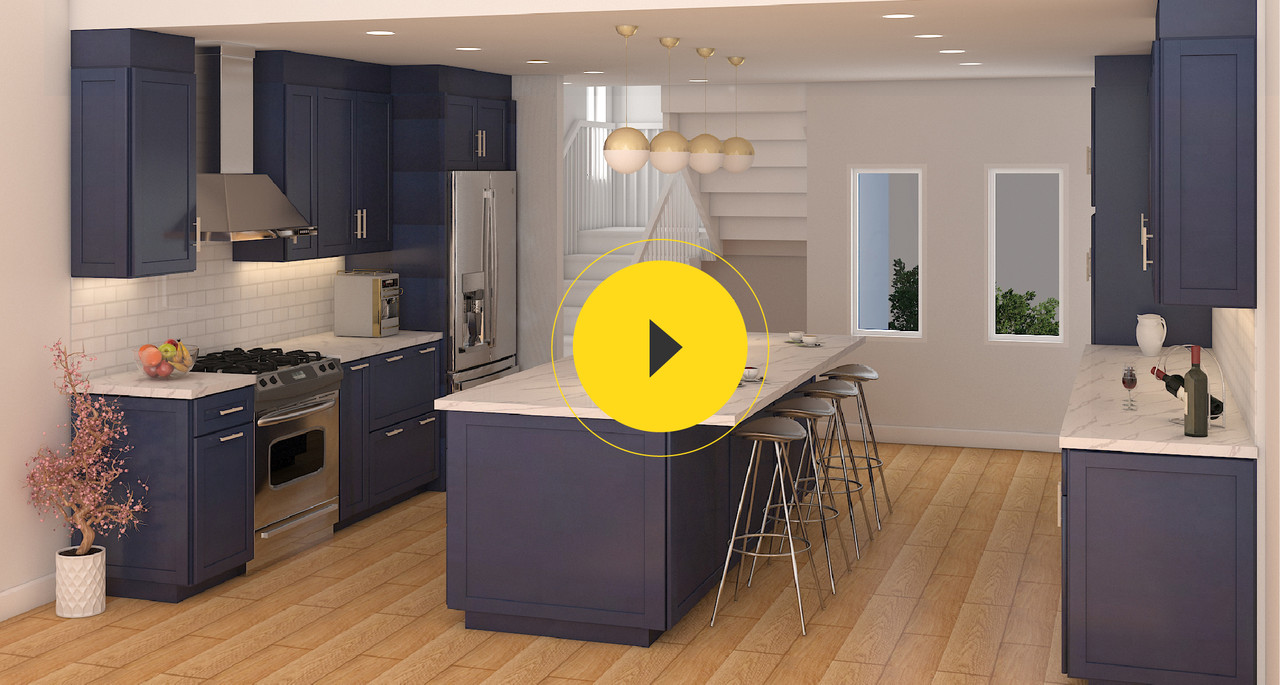 When choosing your backsplash
Once you are set on your countertop and cabinetry color, it's time to choose a backsplash that complements your kitchen's finish palette! The kitchen backsplash tile can highlight a design you love. This design decision is your opportunity to be creative and add personality to your space! Let's look at some examples.
For contemporary kitchens, farmhouse sinks coupled with a white subway tile backsplash creates a beautiful and classic combination.
For a kitchen with an eclectic flair, choosing a mosaic backsplash tile can create a stunning focal point.
For a more modern design, using a large format natural stone tile can bring a new sophistication and sleekness to your kitchen.
Similarly, a common modern design practice is to extend the countertop as the backsplash. This brings both simplicity and uniformity to your kitchen design. When choosing your backsplash, consider what feeling you'd like your kitchen to evoke. From there, you can narrow down the style and hue.
When choosing your backsplash material, consider how much maintenance you are willing to commit to. A ceramic or porcelain tile backsplash is easy to clean and does not require a lot of maintenance.
If you'd like a textured tile such as slate or a natural stone like marble, keep in mind the porous nature of the material and the extra maintenance required to clean and seal this material.
Keep in mind the spaces above your range and sink as they require the most coverage as this is where cooking is centered. Since there is typically more space in these areas, experimenting with a creative design such as complimentary mosaic tile to highlight the area, is a stunning design practice.
What to consider for your kitchen floors
The kitchen is considered to be one of the highest traffic areas of the home. This is one of the most used spaces in your home, and therefore needs to withstand stains, spills and temperature fluctuations. Durability is therefore a key factor when choosing a kitchen floor material.
You can achieve the flooring look you love with several great material options. If you would like a tile look for your kitchen, consider ceramic, porcelain, or wood-look tile. Ceramic and porcelain tiles are durable and available in various styles and colors.
If you would like a wood look for your kitchen, consider engineered hardwood over solid hardwood. Solid hardwood flooring does not work well in moisture-prone areas as changes in temperature and humidity will cause the hardwood floor to contract or expand. Engineered hardwood is a great alternative as it contains a backing layer to prevent moisture damage.
For a wood textured look, choose one with natural warmth. If you are going for a modern or contemporary cabinetry design involving flat panel door profiles, adding warmth through the wood tones will make the kitchen feel welcoming.
Choose the right kitchen floor color
Here are some guidelines to help with your decision.
A light colored floor provides a bright and airy canvas for the kitchen cabinets, countertop and backsplash to make a statement within the kitchen. This works well for all types of styles, colors, and designs.
A dark floor can feel heavy, but properly applied, can create stunning contrasted spaces in kitchens with a deep brooding sophistication. A dark floor anchors the space, which creates depth and contrast against lighter finishes.
For a sleek and elegant look, marble textured porcelain or ceramic tiles offer a clean aesthetic with intricate veining – for that element of luxury.